Runnemede's AllRisk Property Damage Experts Receive NJASBO Honor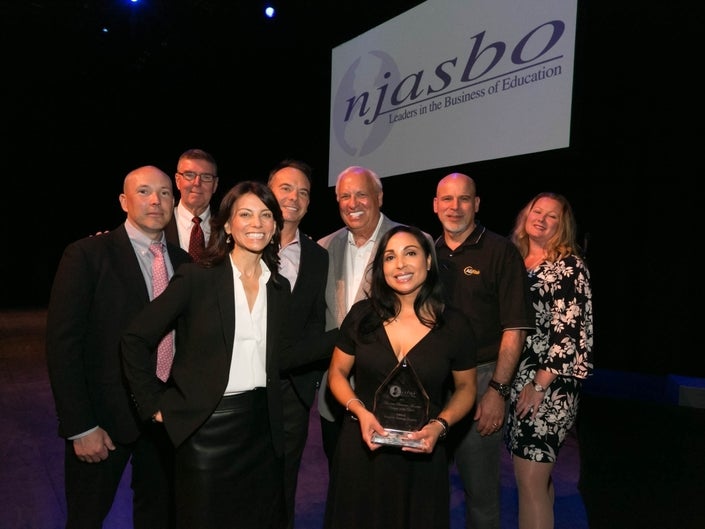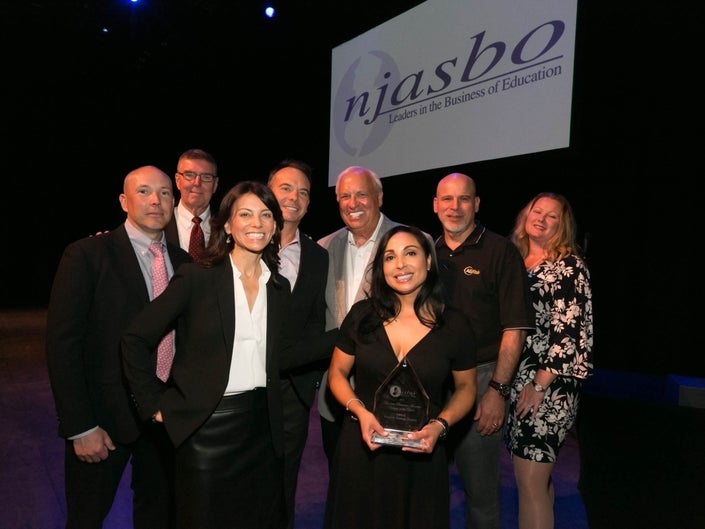 The New Jersey Association of School Business Officials (NJASBO) presented Runnemede-based AllRisk Property Damage Experts with its 2019 Associate Business Members Partner (ABM) of the Year Award. NJASBO presents this annual award to companies that have gone above and beyond to assist the school districts with which they work.
AllRisk Senior Vice President of Sales Christine Messina and Client Relationship Manager Lisa Ortiz accepted the award at NJASBO's annual conference held in June.
"What makes this award extra special is that it is not given or received by individuals," Messina said. "It is a celebration of partnership, the power of teams coming together to create wins from the challenges. Lisa Ortiz and I express our wholehearted thanks to NJASBO, the ABM Executive Committee, our fellow business partners, including our very own Team AllRisk, and most importantly, the business administrators – the hardest working leaders in school business."
For 25 years, AllRisk's mission has been to minimize business interruption, mitigate costs and make recovery from property damage as easy as possible. In its work with schools and school districts, AllRisk has developed a good understanding of the sensitivities and regulations that surround fire, water and/or mold damage.
In nominating AllRisk, Perth Amboy Public Schools Business Administrator/Board Secretary Derek Jess explained that when disaster strikes, business administrators turn first to the "damage control" responders – those who have the knowledge and expertise to provide a twenty-four-seven-response for cleanup, restoration and remediation.
When Hurricane Irene hit New Jersey in August 2011, a building Perth Amboy leased from the Diocese of Metuchen experienced major roof damage. Sections of the roof and gutters were ripped off, and water infiltrated the building, causing damage to classrooms. According to Jess, once the storm died down, a call to AllRisk resulted in a team on-site within two hours. The AllRisk team formulated a remediation plan to repair the roof and the interior water damage. The company worked to ensure that school could reopen in September on time and that it would provide a clean, safe and welcoming environment for the students.
"Never once did they waiver in their confidence that the job would be complete prior to school opening," said Jess.
According to Jess, AllRisk came through again the following year, when Superstorm Sandy hammered the East Coast. Perth Amboy schools suffered flood damage and power outages. The AllRisk team responded to a call for assistance and arrived on-site promptly with a plan of action.
Again in late August 2017, when contractors installing a new HVAC system inadvertently caused sawdust to fill one of the district's middle school buildings, AllRisk responded immediately. School was scheduled to open the following week. "The cleaning of the building was no small task," noted Jess, "yet AllRisk assured us the building would be ready, and their team once again came through."
Additionally, AllRisk has held numerous workshops and provided presentations at school districts throughout New Jersey on mold prevention and remediation, as the state has dealt with some significant rain in recent years.
Photo Caption: The New Jersey Association of School Business Officials (NJASBO) presented AllRisk Property Damage Experts with its 2019 Associate Business Members Partner of the Year Award. Pictured are, from left, NJASBO Associate Business Members President Anthony Solimine, NJASBO Executive Director John Donahue, AllRisk's Christine Messina, Tony Messina, Frank Messina, Lisa Ortiz and Lou Crisci, and NJASBO Associate Business Members Membership Chairperson Dana Pawlak.
About NJASBO
The New Jersey Association of School Business Officials (NJASBO) is a professional association that promotes the highest standards of ethics and efficiency, provides its membership with professional development and support, and collaborates with entities that affect public education. The organization comprises individuals who administer or supervise a variety of operations within the school district. Examples include accounting, budgeting, data processing, environmental issues, food service management, maintenance, negotiations, payroll, purchasing and transportation. For more information, visit www.njasbo.com.
See the full article here: https://patch.com/new-jersey/haddon/runnemede-s-allrisk-property-damage-experts-receive-njasbo-honor