AllRisk's partnership with communities gains recognition from FEMA and national leaders in preparedness
AllRisk believes that sharing prevention and mitigations strategies is the best way we can protect our communities before disaster strikes. In support of America's PrepareAthon, AllRisk is presenting "how to prepare" lunch & learns to multiple senior housing communities in NJ. https://community.fema.gov/a0bt0000000Cjdm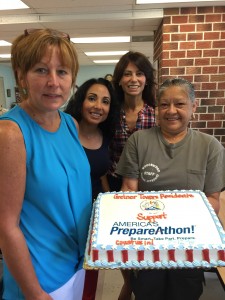 Woodbridge Housing Authority Greiner Towers – Senior Residents Preparedness Lunch & Learn
History has taught us that in a wide scale catastrophe, help is delayed.  The messaging of this program emphasizes to residents of senior housing communities: "In an emergency, you are empowered and responsible for the health, safety and comfort of your family…here's how in 3 Key Steps". Takeaways include checklists, and tactics that are proven to keep communication open despite power disruption, the biggest obstacle to recovery in the early hours of a crisis. Executive Directors, Facility Managers, and Resident Coordinators appreciate this program because when residents take responsibility for themselves, life safety is protected and the burden of "the people part of the disaster" is greatly reduced during a crisis.
To learn more about America's PrepareAthon! Campaign please visit: https://community.fema.gov/about
Interested in learning more about our "how to prepare" lunch & learn? Simply contact Christine Messina (christine@allriskinc.com) or Lisa Ortiz (lisa@alliriskinc.com) subject line "how to prepare lunch & learn".
 Store Team AllRisk in your phone for 24-hour emergency service: 877.247.5252